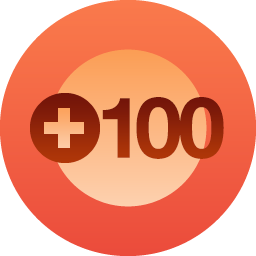 Juhu, ich habe die 100 erreicht!!!
Nach ca.1,3  Jahren des Bloggens habe ich nun 100  Follower (Genau gesagt: 104). Danke an euch alle, die ihr meinen Blog besucht und mir euer Feedback in Form von Likes und so netten Kommentaren hinterlasst. Ich freue mich immer sehr über jedes einzelne davon!!! Und ich würde mir wünschen, dass ihr mir auch in Zukunft treu bleibt. Denn ohne euer Feedback würde das Ganze wenig Sinn und Spaß machen, oder? Ich fühle mich sehr wohl und unterstützt in meiner Blogger-Gemeinschaft und habe bei einigen von euch das Gefühl, euch sogar ein wenig zu kennen. Ich bin gespannt, wie es weitergeht.
Alles Liebe, eure Reni
Yippie yeah, I hit the 100!!!
After about 1,3 years of blogging I have got 100 followers now (To be exact: 104). Thank you so much to all of you for visiting my blog and leaving your feedback in the form of Likes and so nice comments. I´m very happy about every single one of them!!! And I would very much appreciate if you would keep faith with me in future, too. Without your feedback there would be no sense and fun in the whole thing, would it? I feel very well and supported in my blogger-community and I even have the feeling to know some of you a bit. I´m looking foreward how it keeps on going.
Love, Reni